Luis Ozonas (Palma de Mallorca, 1966)
Estudié diseño gráfico en la Escola Massana, en Barcelona. Freelance –ozonas disseny gràfic– desde 1995, en un principio vinculado al diseño gráfico de material de marketing, en formato impreso y electrónico, para Prous Science (Thomson Reuters) en sus propias publicaciones y productos, además de diseñar materiales promocionales para las principales empresas farmacéuticas de ámbito nacional e internacional.
A partir de 2005 pasé a estar plenamente involucrado en la realización audiovisual y motion graphics para TV. Como director creativo de Abuse Design y como freelance, he colaborado en la realización de diseño gráfico, motion graphics en programas, documentales, animación y publicidad para las principales cadenas públicas y privadas de ámbito nacional y autonómico. Continúo vinculado al diseño gráfico de identidad corporativa, diseño web y editorial.
En 2009 dejamos Barcelona y nos trasladamos a Mallorca, desde donde he seguido trabajando tanto para realizadores y productoras de Barcelona como de la isla.
Motion graphics, –grafismo–  es el área donde estoy más implicado, aunque sigo sin descuidar otras áreas del diseño.
Vaig estudiar disseny gràfic en la Escola Massana, a Barcelona. Allà vaig començar com freelance –ozonas disseny gràfic– des de 1995, al principi vinculat al disseny gràfic de material de màrqueting, en format imprès i electrònic, per Prous Science (Thomson Reuters)  en les seves pròpies publicacions i productes, a més de dissenyar materials promocionals per a les principals empreses farmacèutiques d'àmbit nacional i internacional.
A partir de 2005 vaig passar a estar plenament involucrat en la realització audiovisual i motion graphics per TV. Com a director creatiu d'Abuse Design i com freelance, he col·laborat en la realització de disseny gràfic, motion graphics en programes, documentals, animació i publicitat per a les principals cadenes públiques i privades d'àmbit nacional i autonòmic. Continuo vinculat al disseny gráfic d'identitat corporativa, web i editorial.
En 2009 deixem Barcelona i ens traslladem a Mallorca, des d'on he seguit treballant tant per a realitzadors i productores de Barcelona com de Mallorca.
Motion graphics –grafisme– és l'àrea on estic més implicat, encara que segueixo sense descurar altres àrees del disseny.
I was born in Mallorca. On 1987 went to arts school, Escola Massana (Barcelona), where I studied graphic design. I'm a freelance at Barcelona since 1995 –ozonas disseny gràfic–. First projects were marketing materials, print and online, mostly for Prous Science (Thomson Reuters).  Designing flyers, books, printed and online scientific magazines, publications, and several other communication needs for the pharmaceutical companies, plus national and international medical associations such American Heart Association, World Heart Federation and many others.
Since 2005 involved mostly in motion graphics for TV. As a creative director at Abuse Design and as a freelance, I've been working on graphic design and motion graphics in documentaries, animation and publicity for the main broadcast tv channels in Spain.
In 2009 we moved to Mallorca, but keep working in projects from both Barcelona and Majorca, this great little corner of the Mediterranean Sea.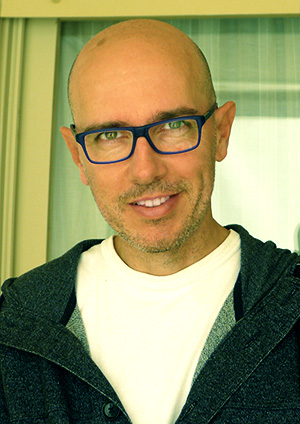 Diseñador gráfico en cuestión